Naomi Braithwaite, Nottingham Trent University
The first retrospective exhibition of the fashion designer Ashish Gupta has opened at London's William Morris Gallery.
As an expert in fashion marketing (and a proud owner of a number of Ashish's renowned shimmering sequined skirts) I was greatly excited by the prospect of the show.
When the day of my visit came, not only was I was able to immerse myself in Ashish's wonderful creations, but I had a chance encounter with the designer himself. He told me that the skirt I had chosen to wear that day (a sparkling green fish print fabric, covered in iridescent sequins) was from one of his earliest collections.
It was in 2021, 20 years after Gupta founded his label eponymous label, Ashish, that the Morris Gallery's curators Roisin Ingleby and Joe Scotland conceived the exhibition. Ingleby told me of the hours of joy they had spent in Ashish's London design archive, selecting the 60 designs that would eventually be showcased through the exhibition.
As a designer, Gupta is celebrated for colourful, glamourous, extravagant designs realised through detailed craftsmanship. Up to 30 garments are handmade each season. They are made to order, with a limited run on designs, ensuring exclusivity and longevity.
From a Delhi boy to the king of sequins
Ashish Gupta was born in Delhi to GP parents. His first exposure to fashion was through a copy of Vogue magazine that his mother had "smuggled into the house".
At his strict Catholic school, Gupta was bullied and fashion and cinema became his escapism.
Having initially studied fine art in India, he moved to London to study fashion design at Central Saint Martins, graduating in 2000. He remembers the then course director, Louise Wilson, giving him the best possible advice: to dream.
The colour, sparkle and sequins which have come to define his work ever since are the realisation of that dream.
When Gupta's eponymous label was discovered by the famous Browns Focus boutique on London's South Molton Street, he was launched from making clothes for friends into the international fashion industry.
Gupta is now considered a pioneer in the way his designs challenge heterosexual, masculine stereotypes and explore the role of clothing in making political and social statements.
This exhibition focuses on the stories told by his creations, demonstrating fashion's power as a form of cultural commentary.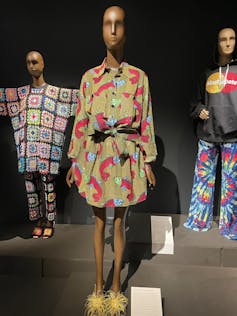 One of the earlier pieces on display is a Dutch Wax Print Dress (2005), a celebration of London's multicultural heritage. The dress is made from African wax print fabric – a material with a complex colonial history – and embellished with sequins.
In the same room is Ashish's Immigrant T-shirt combined with a more traditional South Asian embroidered red skirt and veil from his 2017 spring/summer collection.
This collection was the first to explicitly reference his experience as an emigrant by combining elements of western dress and eastern influences.
Designed during the time of Brexit and the British Home Office's hostile environment policy, this collection explored the emotional impact of leaving home and beginning life elsewhere. Throughout the exhibition are designs that pay testament to Gupta's belief in equality and inclusive representation.
Crafting cultural commentaries
The cultural and political narratives that define Ashish's creative storytelling are on show through the combinations of craft skill, materials, sequins and hand embroidery, throughout the exhibition.
Sequins have become Ashish's signature style and far from cheap embellishments, they represent a technical art form, enabling a different way of working with fabric.
Ashish's garments are hand made in India using traditional artisinal craft skills.
Many of the garments on display highlight Ashish's play on traditional craft through the embellishment of sequins, including crochet and Fair Isle knitwear.
On display in the centre of the opening room is the designer's adaptation of a high vis jacket, with a lumberjack shirt and jeans from the 2010 autumn/winter collection. Here, the addition of sequins play with heterosexual norms.
The second section of the exhibition centres on the Yellow Brick Road collection from autumn/winter 2017, which was inspired by the 1939 film, The Wizard of Oz.
These pieces feature multiple versions of the Rainbow pride flag, to form a collection that celebrates people of colour and queer communities.
The final section of the exhibition showcases the skill of hand embroidery on display in Ashish designs.
A highlight for me was the dressing gown created using Zardozi – a south Asian embroidery technique using gold thread.
This fascinating exhibition presents the wonder of Ashish's creativity and highlights the power of garments to convey stories and meanings. The glittering genius of combining sequins with traditional craftmanship has Gupta firmly on fashion's catwalk of fame.
Ashish: Fall in Love and Be More Tender is a free exhibition, on now at the William Morris Gallery, London, until 10 September.

Naomi Braithwaite, Associate Professor in Fashion Marketing and Branding, Nottingham Trent University
This article is republished from The Conversation under a Creative Commons license. Read the original article.