Canadian cultural identity in media can be hard to derive from its cinematic output. At the turn of the century, Canadian content was often denoted by its joint productions with international companies and generally creating some truly oddball animations (Cybersix, Reboot,  Clone High). But as the country lost its status as an animation powerhouse and homegrown content became more and more tunnel-visioned in scope and content, it made the fingerprint of the country hard to discern. A niche seems eager to rectify this, however—modern Canadian horror.
Strong horror in Canadian cinematic offerings is no recent facet—from Cronenberg to the cult hits of The Changeling and Cube to massive franchise instalments like Resident Evil: Welcome To Raccoon City, the country has been host to heavy hitters and had influential homegrown horror staples emerge. Modern Canadian horror seems to exist in a different pocket of the genre than its predecessors, and this is where its standouts lie.
One can most easily point to Brandon Cronenberg, son of the aforementioned legend David Cronenberg, as a leading light in this recent cultural trend. It is no surprise that the Cronenberg name carries such weight in the cinematic horror sphere given the gross-out king's contributions via The Fly, Scanners, and A History of Violence to name a few. But with his highly-regarded Possessor, Brandon Cronenberg proved himself just as much a force in the industry as his father while diverging paths to a more cerebral horror in this tale of a body-possessing assassin. His seemingly purposeful move away from imitation of his father's style while maintaining a similar air is indicative of this wave of horror at large.
Sweeping headlines and festivals since its release, Skinamarink showed itself as a wholly unique offering in horror cinema. Calgary-based filmmaker Kyle Edward Ball made a statement with his ultra-low-budget feature debut. In this chilling piece of monotony with found-footage adjacent cinematography, we see the slow downward spiral of two children when their parents go missing in a house with a decidedly malicious entity. While one could definitely desire a handful of minutes to be shaved off its runtime, Ball uses minimalist techniques to maximum effect in Skinamarink, creating a tone and delivery method that feels unparalleled in the scene currently.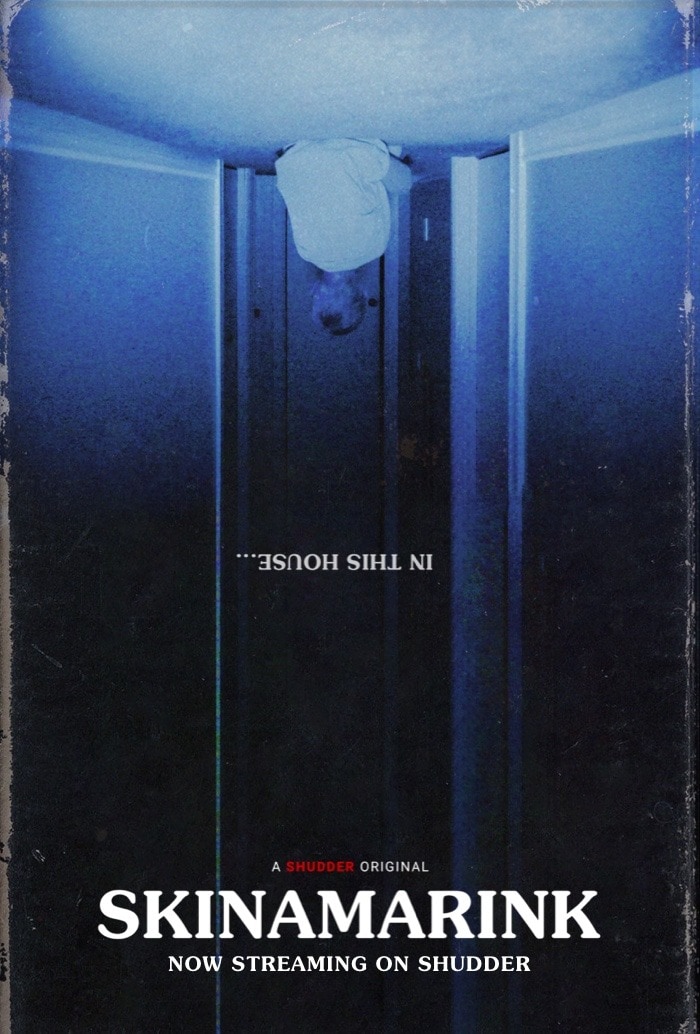 But to look to only anglophone offerings does a disservice to the work being created in Canada. Quebec has had some poignant horror films recently, and they could not be occupying more different camps. Red Rooms is Pascal Plante's examination of serial killer idolization—a surprisingly untapped narrative given its cultural prevalence. A sickening psychological thriller with horrific acts pointed to offscreen, it looks into the heart of the uninvolved public to find true monstrosity. And then there's the debut feature of Ariane Louis-Seize, Humanist Vampire Seeking Consenting Suicidal Person. This bizarrely sentimental and delightfully twee interpretation of vampirism maintains some sharp teeth throughout, conjuring not only a sweet love story but moments of visceral abandon.
Modern Canadian horror finds its power in giving us something we didn't know we needed. Amidst the country's ever-present identity crisis in relation to its southern neighbour, this wave of cinematic horror finds its place in presenting what's absent. While it isn't the representative narrative trends we've seen through the likes of Jordan Peele and Jennifer Kent, it still manages to bring fresh blood into the genre in a way that brings back a sense of something truly individual to Canada's media culture.