Last week saw the close of Neptune Theatre's most recent production, Annie Valentina's new play Ballad of the Motherland. And while the window of opportunity may be closed for now on this production, this work's impact cannot be understated in the day we live. Through its fearless reimagining of a chillingly relevant news story from 2014, Valentina brings forth a narrative that serves as a claustrophobic window into the looming presence of Russia over Ukrainian identity.
Centring around the character of Kate (played by Hannah Wayne-Philips), Ballad of the Motherland tells the story of this small-time Canadian blogger of Ukrainian-Russian descent on a writing internship in 2014 before being kidnapped by Russian separatists–a situation largely inspired by the kidnapping of journalist Simon Ostrovsky. Kate is then under the unrelenting and fervid watch of Volodya (played by Nikolai Afanasev) in an underground bunker. Split between Kate's post-event narration as detailed to an unseen interviewer and her time spent captured, the story paces with an imperceptible yet weighty flow of time and through her conversations with Volodya and her afterthoughts, grapples with themes of identity, belonging, nationalism, violence, and family.
Valentina has long been a fixture in the Halifax theatre community and here she has crafted a work that strikes a chord between her as an individual and the world at large, most especially echoing the fraught tension ongoing between Russian and Ukraine. Her writing scintillates in the dark and dusty pocket of the world she has crafted. Kate's voice is one of genuine desire for insight and a thoughtfulness even of her own miserable situation. Through her proud outsider perspective, we are privy to thoughts on queerness, familial rebellion, and a seemingly unflappable spark of hope, or at least survival.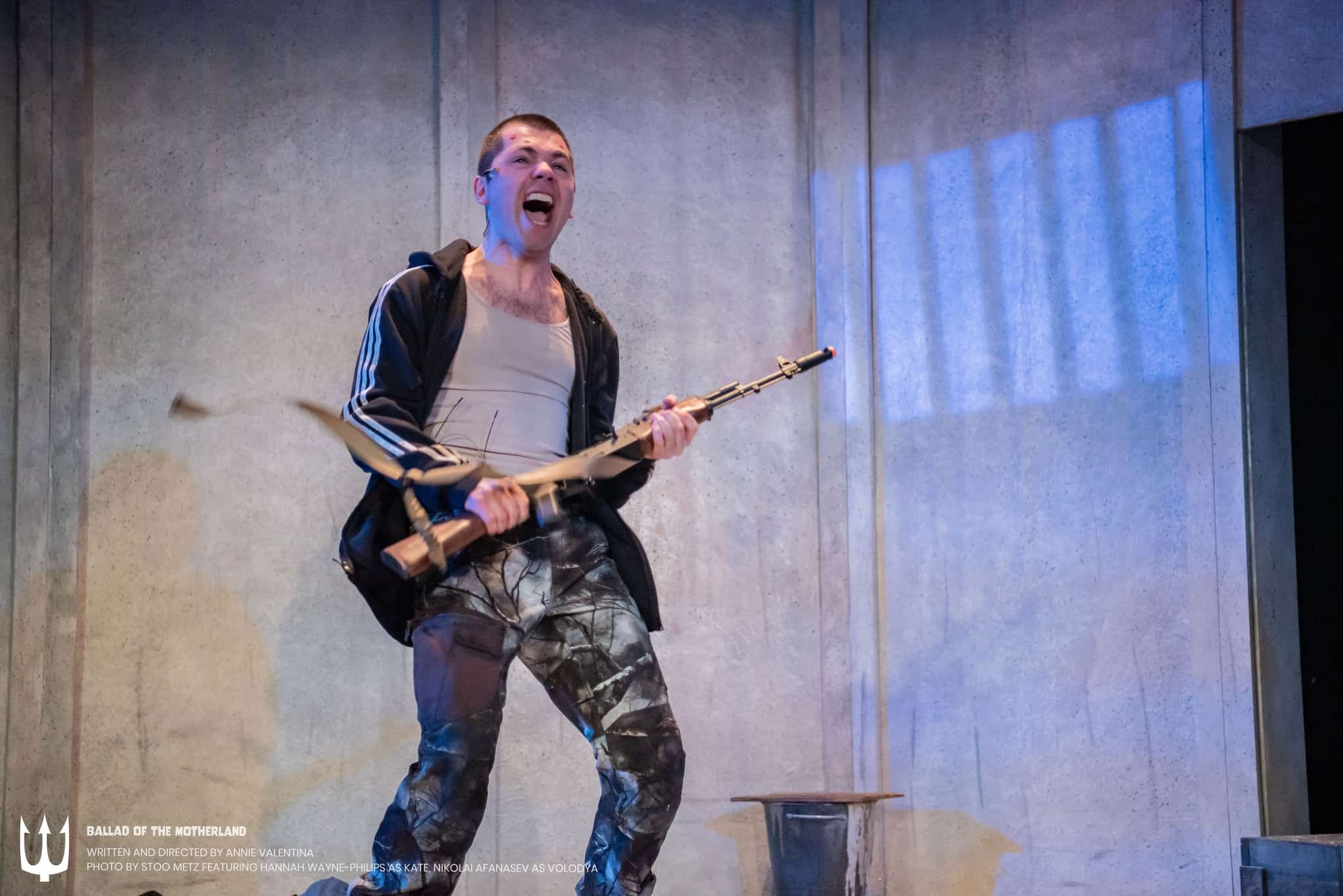 Valentina creates an equally memorable voice in the unquestioning toxicity of paramilitary jailer Volodya—in him we see an expression of violent regressiveness (both textually and physically through his assault on Kate) as well as a steadfast sense of honour and tradition, however skewed they may be. We feel terror after terror from this young soldier, but through the playwright's uncompromising aims for depicting honest humanity, not to mention the vibrant chemistry created between Wayne-Philips' resolute understanding and Afanasev's volatile stoicism, the audience is tasked with empathizing, even when faced with the unforgivable.
The design of this production paired perfectly with this intimate spectacle of dread. Wes Babcock presented a space that immediately evoked the reality of a sullied cell, Jess Lewis' lighting and Jordan Palmer's projection designs made for fascinating tools of narrative division as well as a strong heightening of reality, and Kaelen MacDonald's costuming was subtle but impactful (the use of a Blockbuster t-shirt as a nod to Ukraine's blue and yellow was a phenomenal touch). Every element of this show supported the reality of Valentina's narrative that all too unfortunately resonates so much more now than when she first started in 2014.
Ballad of the Motherland is a class act in contained storytelling, and one of immediate and tangible importance to our current world. There are timeless explorations of issues of corrupt nationalism, unquestioned normalization of misogyny, and what one will do to survive; Annie Valentina's voice shines most especially in these veins. But this play, through the fault of humanity's propensity for violent expansion, has become a story that deserves hearing across the globe.