The painter Nina Chanel Abney has been on a steady ascent since she first unveiled her visceral fusions of abstraction and figuration at the Kravets Wehby Gallery in New York City in 2008.
Since then, she quickly developed a distinctive method, improvising images using scores of stenciled shapes and symbols, and graffiti-like touches of spray paint. Her large-scale, colorful, abstracted figurative works have been likened to masters like Romare Bearden, Stuart Davis and Henri Matisse. Addressing subjects as diverse as race, politics, religion, sex and art history, Abney shies away from linear storytelling and creates disjointed narratives that almost look overloaded yet balanced in some order with a bold and dynamic style.
Abney has been quickly embraced by museums, collectors and curators alike in the past few years. Her ascent in the art market has been steady and well-earned, making the Chicago-born artist a leading figure in contemporary art. Her work is included in collections around the world, including the Brooklyn Museum, The Rubell Family Collection, Bronx Museum, and the Burger Collection in Hong Kong.
Her oeuvre spans paintings, public murals, 3D figures, interactive animation and even augmented reality pieces. Her work can be found in public spaces, on basketball courts, in major museums and in renowned private collections worldwide. Her latest exhibition was on view in December of last year at Jack Shainman Gallery, where Abney has had representation since 2016.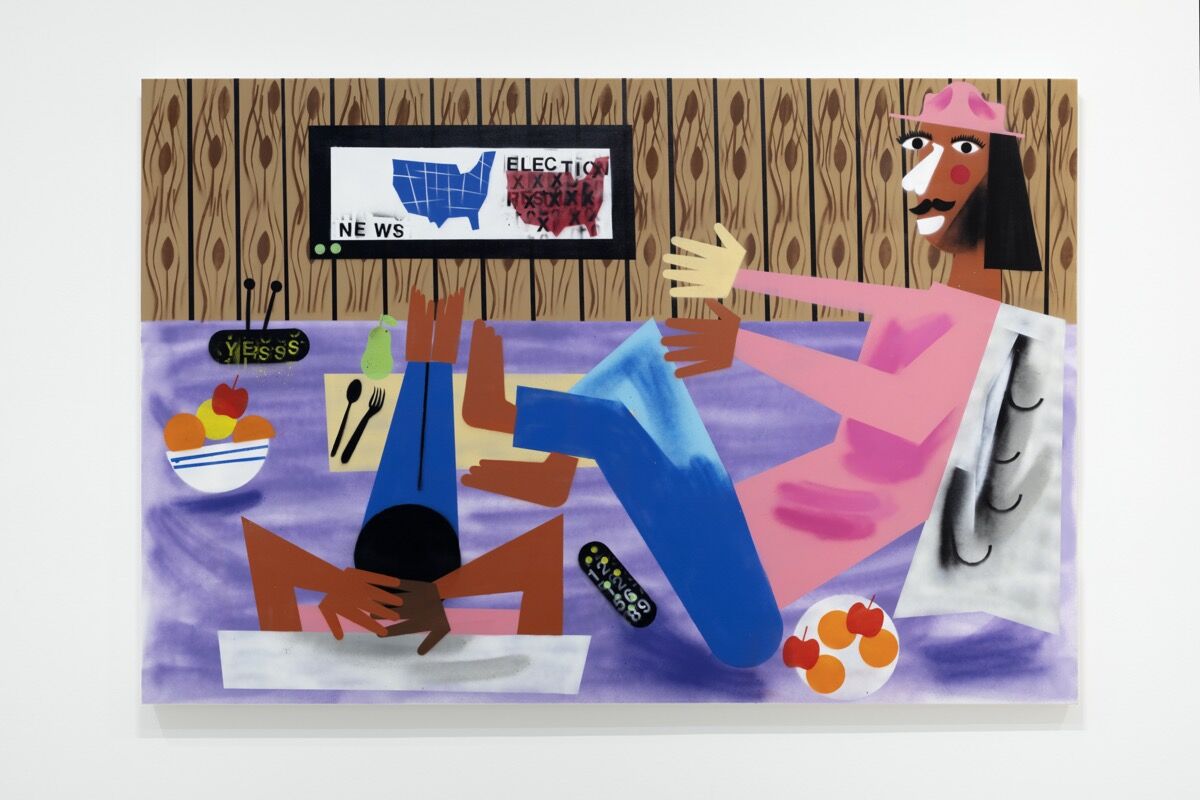 The exhibition at Jack Shainman Gallery was Abney's second solo show with the gallery and focused on scenes of Black leisure and joy. A year after signing with the gallery, she received her first solo museum exhibition organized by the Nasher Museum of Art at North Carolina's Duke University. The exhibition ultimatley traveled to museums in three more cities across the country and set the stage for Abney to enter the secondary market. In 2018, her 2012 canvas Country Ken appeared at a Christie's sale with a high estimate of $7,000 but ended up selling for $47,500.
Following the tremendous success of her auction debut, works by Abney have continued to reach new heights. To date, Sotheby's holds her auction record which was for Paradise Found (2009), a surreal canvas featuring bathers in a hot tub which held a £70,000 estimate but sold for over triple that amount (£225,000) in 2019.
Abney has embraced her momentum and continued to produce thought-provoking work even during the pandemic. Last summer she launched her first-ever augmented reality work, Imaginary Friend (2020), with Acute Art, which tells the story of a sage-life figure who offers words of encouragement to those who need them. "Sometimes we believe nothing good can ever happen to us, so it don't," says the sage.
Her exploration of augmented reality in addition to her continued work as a muralist and brand collaborator, as well as her upcoming museum projects, are testaments to Abney's commitment to making her art accessible to all and status as a major force in contemporary art today.